Sell your instrument
We buy your unwanted instruments and help you find one you do like. We can offer direct cash or money transfer,
even paypal or trade-in. Just give us a call or send us an email.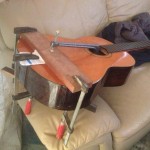 Repair or set-up your instrument
Everyone likes their instrument differently. We at Hermanos de guitarras love to help you in making your instrument the way you want it.
From repairs to string-changes, fine-tuning and setting-up your instrument.We also give advice on upgrades or changes to your set-up.
Contact us if you have any questions or if you want to make an appointment.

Instrument appraisals
Are you wondering what kind of instrument you own, what it is worth or what it would cost to make it playable again?
Feel free to contact us, we're happy to answer any of your questions!